FAQs
Main FAQs
Do you have a question that is not in this FAQ?
If you or your dog has a question for us, or you'd just like more information about our product, drop us an email at woof@thepackpet.com (we promise we don't bite).
NUTRITION & HEALTH
Dogs are facing a health crisis, and obesity and cancer rates in pooches are sky-high. Why is this? Well, the dog food industry has a bark side. We know that the meat-heavy and unnatural nasties pumped into pet food have a lot to do with it — the sort of ingredients that increase canine waistlines and reduce wags. That's why we're showing humans that plant-based eating can make dogs healthier, stronger, shinier, and happier. Dogs won't only survive but thrive eating more plants.
Is feeding vegan dog food to dogs healthy?
Yes, providing you choose nutritionally complete and balanced food like THE PACK wet food, your pet companion will get the nutrients they need to thrive on vegan dog food.
Dogs, like people, are different, and so we always advise a gradual transition as outlined in our feeding & transition guide and ask pet parents to monitor their dogs' health carefully on an ongoing basis.
As pet parents we all felt pets deserved better pet food free of the 'nasties', you find in conventional meat-based products. We believe that over the next decade you're going to see improved health and greater longevity in this new generation of plant-based dogs and those dogs that get fed more plant-based food.
Associated benefits of plant-based dog food that have been reported include better skin and coat, better-smelling breath, reported weight loss, and less occurrences of cancer, diabetes and other diseases.
Does that mean I need to turn my dog vegan?
Our products are nutritionally complete, so you can feed your dog fully plant-based on THE PACK alone - or feed our product alongside your current dog food if you'd prefer. We don't make vegan dog food for vegan dogs. We craft healthy, plant-based meals for all dogkind and welcome our flexi-dogians into THE PACK.
Can I feed THE PACK alongside my dog's current food?
Yes you can. We have spent a lot of time crafting a texture and consistency that works really well mixed with kibble and other dog food. Just please make sure you follow our feeding & transition guide to work out the correct amount of THE PACK to feed your dog.
Think dogs are carnivores? You must be barking! Dogs are omnivores, meaning they'll give their paw for anything delicious, be that broccoli or beans. Don't get us wrong, we're not saying your dog should only eat carrots. No way. It's about giving your furry family member a full nutritional plant-based profile that will keep them fetching tennis balls from dawn till dusk. For years and years, domesticated dogs have become omnivores, just like their humans. They even have enzymes, like amylase and maltase, which are only found in herbivores and omnivores to help them digest the starches in plants. Healthy dogs need protein to make up their daily diet, but this doesn't have to come from meat. THE PACK is a complete food, meaning it gives dogs all the protein-building amino acids they need to develop muscle, produce hormones, and cultivate a healthy immune system. Read more about dogs being omnivores here.
How digestible is your food?
THE PACK has a rate of 90.6% protein digestibility, which is higher than many of the conventional, meat-based pet foods out there — which means that every PACK meal is as substantial as it is delicious. Better digestion of proteins means your dog will benefit from all the goodness we have packed into our products and stay fuller for longer.
Do your products have vegan D3 in?
In our products we use vitamin D3 (Cholecalciferol) of 100% plant-origin, produced from algae. It is approved under the EU Feed Additives Regulations as well as by The Vegan Society.
THE PACK is nutritionally complete & balanced, what does this mean?
Healthy dogs need protein but this doesn't have to come from meat. THE PACK is a complete food, meaning it gives dogs all the protein-building amino acids they need to develop muscle, produce hormones, and cultivate a healthy immune system.
Our recipes follow the nutritional guidelines laid out by the European Pet Food Industry (FEDIAF) and National Research Council (NRC) to make sure THE PACK is not just plant-sourced, but complete — and based on years of research into the dietary needs of your pets. But all of that was just our baseline. As added benchmarks, each of our meals exceeds the minimum required levels of amino acids. It's the dog's dinner - done right.
Is THE PACK suitable for a hypoallergenic diet?
Yes, our food is suitable for a hypoallergenic diet. However our products are produced by a manufacturer that handles allergens. We would always advise you to consult your vet before feeding THE PACK to your dog if they are on a hypoallergenic diet.
Can I feed THE PACK to my puppy?
Currently, THE PACK food is only suitable for dogs aged 12 months and over. But rest assured, we're working hard behind the scenes to formulate THE PACK for puppies. That doesn't mean you can't be a part of THE PACK - head over to our resource area to learn more about plant powered pups.
Can I feed my diabetic dog THE PACK?
We would advise you not to feed our food to your diabetic dog. We would suggest that you consult your vet before feeding THE PACK to your dog if they are on a diabetic diet.
Can my dog get enough taurine on a plant-based diet?
For the last few years, there's been conversation in the pet health community about links between dog food ingredients, like legumes, important amino acids, like taurine, and the health risks of taurine deficiencies, like dilated cardiomyopathy (DCM). We know that every pup needs to get all 20 amino acids. We also know that dogs can make half of these acids naturally — including taurine. Unlike other animals (like cats), dogs don't need to get taurine from their diet, instead they are able to make taurine from other amino acids. Therefore, we have ensured that THE PACK is full of natural plant-based amino acids. Additionally we have proactively supplemented our food with extra methionine, taurine, and lysine to safeguard your pups health.
My dog's poops are different after switching to THE PACK, is this normal?
When changing your dog's diet you can expect a change in their poop. THE PACK is full of dietary fibre, so you may notice that their poops are larger than normal, or that they're going to the toilet more regularly. This is to be expected with plant-based food which includes more soluble fibre than meat-based foods. Larger poops means the benefits to the gut of plant-based foods are working and your dog companion is absorbing all those healthy nutrients.
We always stress it is important to follow our feeding and transition guidelines to ensure your dog digests the food properly. If you're worried about your dog's poop, slow down the transition. If you have any concerns please speak to your vet.
Our food has been tested and shown protein digestibility of over 90% and therefore should digest smoothly.
What ingredients do you use?
We use 100% plant-based and high quality ingredients made with a premium manufacturing partner. We select ingredients that have an important nutritional function. There are literally too many ingredients to list but head on over to our product page to explore the blend of pulses, vegetables and superfoods which make up every one of our meals.
SAFETY & QUALITY
Who formulates your food?
We aren't called THE PACK for nothing - we wouldn't be here without our team of absolutely stellar experts. Our recipes were formulated with a combination of the team here at THE PACK, our animal nutritionist, food technologist, food scientist, and our manufacturer who are one of Europe's leading premium wet food manufacturers and who have animal nutrition experts and food scientists in-house.
Is your food made in a factory that handles meat?
Our food is made in a factory that handles meat, however, THE PACK is created on the factory's exclusively plant-based day, meaning the factory is fully cleaned before THE PACK is made. This reduces the risk of cross-contamination and means our food does not come into contact with meat-based food.
Is your food human-grade?
Although our food is human-grade, it is not made specifically for human consumption (despite how tasty it smells), so we don't advise you to eat it.
Our ingredients do not contain any grain but our products are manufactured in a facility that handles grain.
Has your food been tested on any animals?
We are proud to have been certified as cruelty-free by PETA. Lots of companies test their food on laboratory dogs who live in kennels and don't have any pet parents of their own. However, we carried our digestibility tests via In Vitro Tests which do not use any animals and instead use a simulation that mimics a dog's digestive tract. We also did a real home feeding trial with dogs living happily with their families, because we believe dogs belong on laps, not labs.
Is your product vegan society approved?
They are not currently but we are planning to apply for the trademark in the future. Rest assured all of our ingredients used are 100% plant-based.
Do you regularly examine your food to ensure all the nutrients are there?
We conduct regular animal-free laboratory tests of each of our food production runs. It is important to us to consistently test the nutrients of our food to ensure we are being transparent and accurate with the information we provide you and to ensure your dog is getting all the nutrients they need to thrive.
Why is THE PACK slightly more expensive than meat-based dog food?
We wanted to make a product we are proud of that nourishes our dogs and tastes great. Unfortunately, making plant-based products is more expensive than using the nasties and fillers involved with a lot of conventional meat based pet food. We are just starting out so our order volumes are relatively small but as we grow we hope we can reduce the price of our products. We already offer a discount on each can for our subscribers.
GETTING STARTED
What can I expect when I open a can of THE PACK?
We created THE PACK wet food to be dog food unlike any other. We packed each can with incredible plant-based ingredients, carefully selected to produce food dogs love.
The smell is so good that you might get confused thinking this is your own dinner and the texture is a stew-like consistency, so it works really well if you want to mix kibble in with it.
You will be greeted by nutritious vegetables, fruits, superfoods and chunky meat like pieces.  To see our ingredients head over to our product page.
How much should I feed my dog and how do I transition my dog from their current diet to THE PACK?
If you are thinking about either switching your dog fully onto THE PACK or feeding THE PACK alongside their current food, head over to our feeding and transition guide to make sure your pup's tummy is happy throughout the switch.
Can I mix THE PACK with kibble or other food I currently feed my dog?
Yes you can. We have spent a lot of time crafting a texture and consistency that works really well mixed with kibble and any other dog food.
Should I talk to my vet before switching to THE PACK?
Proper nutrition is a pillar of health and your vet should be aware of your dog's diet on your next routine visit. We recommend that you consult with your vet when making significant changes to your dog's diet, as you would with other decisions that may influence your dog's health. Transitioning your dog properly to THE PACK is key so please read our feeding and transitioning guide before feeding your dog our products.
SHIPPING & RETURNS
Where can I find your shipping information?
Head over to our shipping page to find all the information you need. Just a heads up for now we only ship to locations within the UK.
Do you plan to sell your products outside of the UK?
Where can I find your returns information?
Head over to our returns page to find all the information you need.
SUBSCRIPTIONS
My pup and I love THE PACK! How do we become subscribers?
We are so excited your are join THE PACK community by becoming a regular subscriber. Head over to our subscription page that will give you all the information on how to subscribe.
I'm a subscriber. How do I delay my next food shipment date?
Just log into your account and select your next subscription order. You can then change the date on which you would like it to arrive.
How do I cancel my subscription?
You can cancel your subscription at any time by logging into your account. You must cancel a minimum of 24 hours before your next order is due.
SUSTAINABILITY
What is the relation between dog food and the environment?
Pet food creates 64 million tonnes of carbon dioxide each year, and a lot of that is because it's made of meat when it doesn't have to be. We can't fetch another planet, so we came up with a plant-based solution that requires less land, energy, and resources than traditional, meat-based pet food, helping humans and dogs alike to leave smaller carbon pawprints.
How are you taking steps to minimise your environmental pawprint?
Here at THE PACK, sustainability is one of our top priorities and we're taking every step we can to minimise our environmental impact. That's why we've worked with sustainable packaging experts to help us create fully recyclable packaging and to help minimise our food waste. In addition, plant-based food has a smaller carbon footprint compared to traditional meat based products, therefore our products are already more sustainable than many meat alternatives. We have also created a carbon footprint assessment to measure our sustainability as a company, which will help us improve further and inform any future product development. We are also on the journey to becoming a B Corp, which will ensure we meet the highest standards of verified social and environmental performance, public transparency, and legal accountability to balance profit and purpose.
Our core mission is to be a company that does good; we want to have a positive impact on our planet and the people and animals that call it home, and we will carry this mission on as we continue to evolve and grow.
Is your packaging recyclable?
Yes, all our packaging, including the cans and the box THE PACK arrives in, are plastic-free and fully recyclable. Head over to our sustainable mission on our website to learn more about our packaging and why we have chosen these items.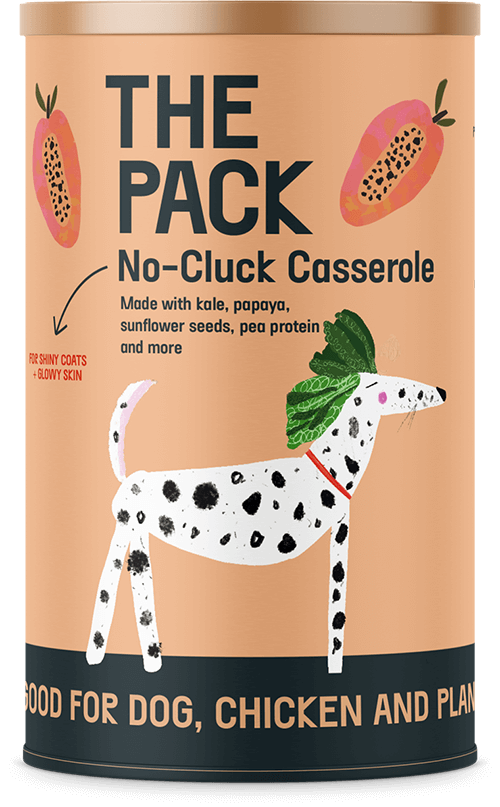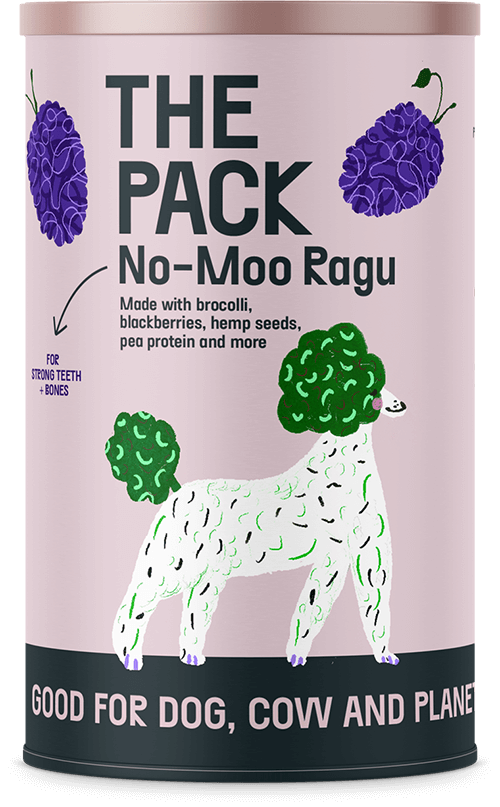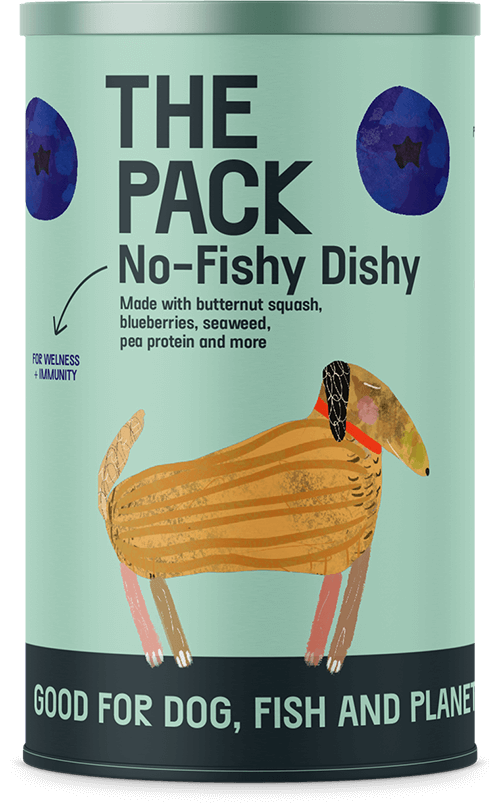 ONE GIANT LEAP FOR Dogkind
We're on a mission to cook-up drool-inducing, vegan dog food meals for every dog bowl in the world. The revolution is here and it's hungry.